Příslušenství popis kategorie
Pulsation dampeners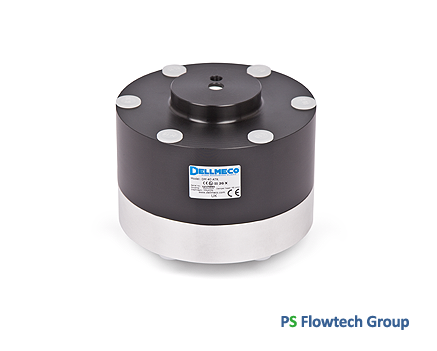 In general pulsation dampeners are used when one or more of the following criteria are required: to prevent potential pipe vibration: 1) to reduce the load on the pump; 2) to minimise or eliminate pulsations for the benefit of down stream instrumentation; 3) to minimise or eliminate pulsations which may interfere with the pumping process. It works by means of an aircushion created by the pressure of the media pushing the diaphragm upward. This allows air to enter the chamber keeping the diaphragm center at mid stroke. During operations the diaphragm flexesthus absorbing and equalising the pressure surge. Properly sized and installed these dampeners provide virtually surge-freedischarge flow.
Size (connection): 1/4", 1/2", 3/4", 1",1 1/2", 2", 2 1/2", 3"

Max. system pressure (bar): 8 (more on request)

Material of diaphragms: EPDM, NBR, TFM/PTFE, TFM/PFA

Material of chamber: SS316L (polished), SS316, Alluminium, PE, PE conductive, PTFE, PTFE conductive

Max. liquid temperature (°C): PE chamber 70°C, PTFE and metallic up to 120°C
Pneumixer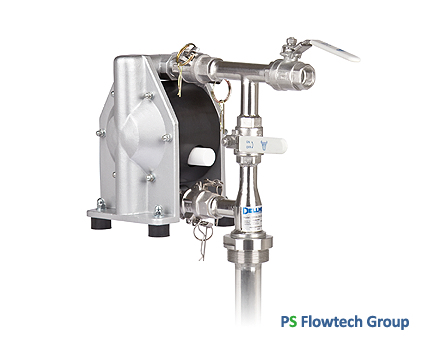 The Pneumixer works both as a pump and as a mixer. It uses the container to both mix and transfer the media and it fits securely yet simply into the hole used for filling. With this ingenious system there is no need for rolling, shaking or pumping to mix the media. Valuable time and costs are thus saved whilst waste and mess are avoided. Available in stainless steel AISI 316L. Mixing mode - The discharge valve is closed and there - circulation valve opened to allow the media to mix in the container. Transfer mode - To both mix and pump the media out of the container the discharge valve is opened and there - circulation valve partially opened. The length of pipe can be ordered to fit any container size
For pumpsize (connection): 3/4", 1",1 1/2", 2"

Pneumixer material execution: SS316L

Available for pumps in material execution: SS316L (polished), SS316, Alluminium, PE, PE conductive, PTFE, PTFE conductive
Multiplicator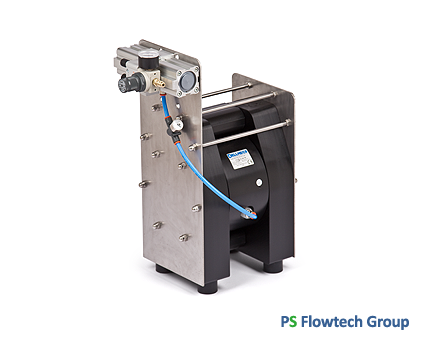 Our HP pumps are self-regulating and additional devices for regulating the media flow are not necessary. Just mount it to the unit, connect, and it's ready. Even the pressure regulator for the air supply is included. In applications such as for example filter presses, the filling level can be monitored by stroke sensors and stroke counters which are available as optional equipment. The pump is also selfpriming and can run dry.
For pump sizes (connection): 1/2", 3/4", 1",1 1/2", 2"

Max. achieved pressure (bar): 14

Available for pumps in material execution: SS316, Hliník, Litina, PE, PTFE
Barrier chamber system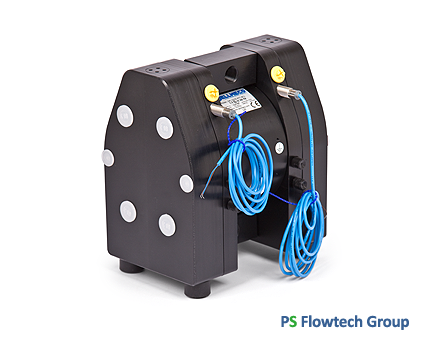 To comply with increased safety standards, this system replaces the standard diaphragm by a tandem arrangement of two diaphragms and a PE conductive barrier chamber filled with a non-conductive liquid (usuallyde-ionisedwater). Sensors monitor the conductivity of this liquid and if the diaphragm fails, they detect the change in conductivity and an electronic signal is sent to a controller.
Available for pump sizes (connection): 3/8", 1/2", 1",1 1/2", 2"

Available as ATEX complied
Diaphragm monitors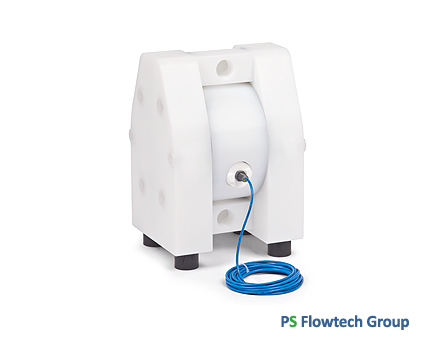 Although DELLMECO diaphragms are designed for optimum service and maximum lifespan, regular maintenance must be included as part of the service programme. This is called preventive maintenance planning (PMP). However, for increased security in sensitive applications, any pump failure from, for example, the media leaking into the pump central housing can be simply and effectively prevented by installing a DELLMECO diaphragm monitoring system. A capacitive diaphragm sensor is mounted in the pump muffler which monitors any media in proximity to the sensor, nomatter whether this media is conductive or not. Thus, immediate remedial action scan be taken.
For pump sizes (connection): 1/4", 3/8", 1/2", 1",1 1/2", 2", 2 1/2", 3"

Available in ATEX execution
External pumpcontrol - solenoid valve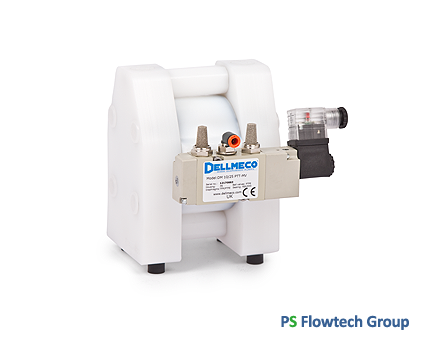 DELLMECO plastic pumps with the MV option replace the standard airvalve with a solenoid airvalve. This enables media to be delivered in precise and constant volumes for such applications as found in the chemical industry. The pump is fittedto a 2-position, 4-way solenoid valve. When the solenoid is unpowered, one chamber within the pump is pressurised with air, whilst the opposite chamber is discharged. When electric power is applied, the solenoid re-pressurises the discharged chamber and the opposite chamber is then discharged.
El. supply: 24 V DC

Available in ATEX execution